The Bradford Canal
The Bradford Canal ran from the Leeds and Liverpool Canal at Shipley 3.5 miles into the centre of Bradford. It opened in 1774, and was closed in 1866, when it was declared to be a public health hazard. Four years later it reopened with a better water supply, and closed for the second time in 1922. It was subsequently filled in, although consideration has been given to restoring it.
The last remains of the Bradford Canal are now a canal basin at Junction Bridge No. 208. Junction Bridge No. 208 was originally built to enable boat horses to cross from the Leeds and Liverpool towpath to that of the Bradford Canal.
From here the canal quickly assended towards Bradford with the first lock located just yards from the end of the basin. Following the road a pumping station is located on the right hand side. This has now been converted into a dwelling.
It is possible to walk the route of the Bradford Canal from here. Most of the route has been converted into a footpath and cycleway. From the contours of the land it is still possible to trace the location of the locks and most of the bridges still exist. It had a total of 10 locks, arranged as one 3-rise staircase, 3 2-rise staircases and one single-rise lock.
Bridge 208 in 1972 photograph by Roger Watson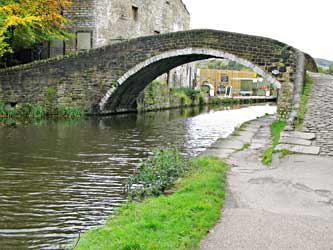 View through Bridge 208 today